160.aktion das 6-tage-spiel 2022
30 July 2022 @ 08:00

-

31 July 2022 @ 17:00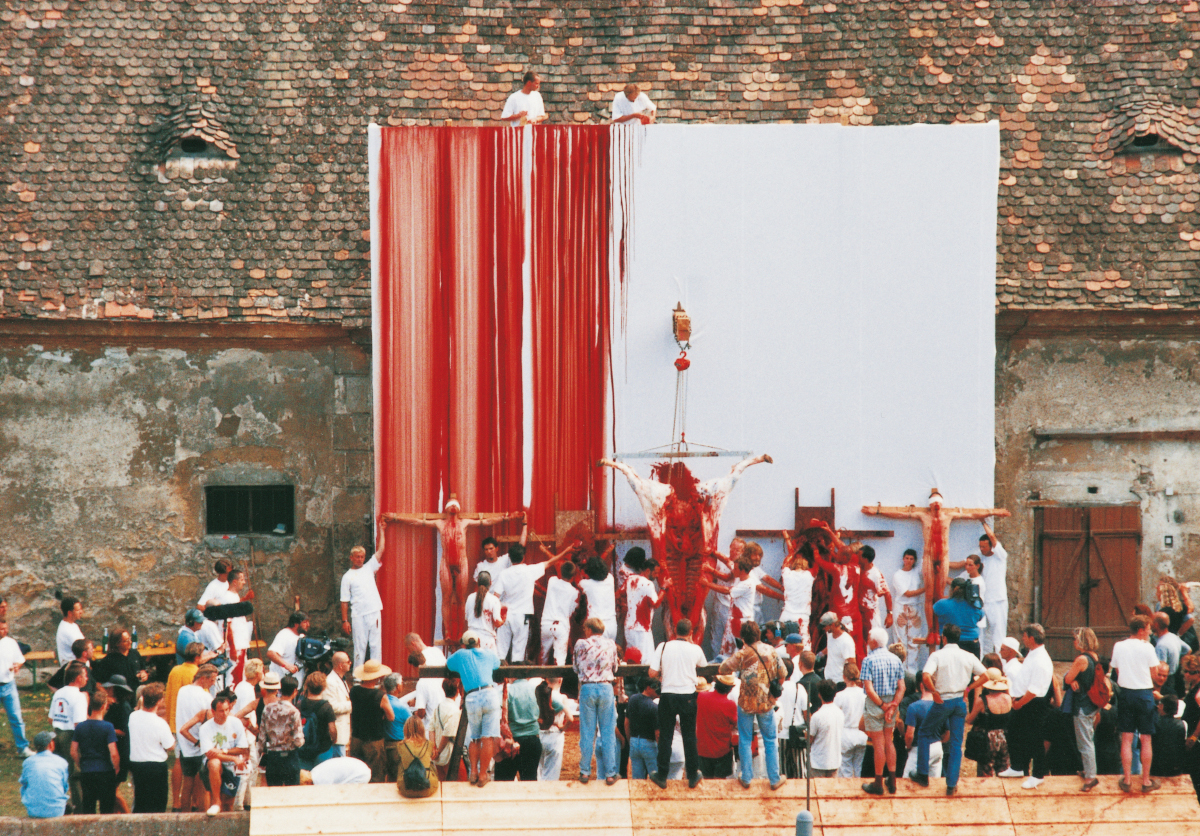 HERMANN NITSCH
Orgien Mysterien Theater
160.aktion
das 6-tage-spiel 2022 – 2. Fassung (the 6-day play – 2nd version)
30 – 31 July 2022
Atelier Hermann Nitsch Prinzendorf, AT
the 6-day play of the o. m. theatre is a work in progress. everything i've ever done, my action painting, all my performance actions, my music, they were all precursors for a never-to-be completed work. in 1998 i succeeded in staging a possible version of the 6-day play in the orgies mysteries theatre at prinzendorf. in 2022 i wish to stage another version of the 6-day play. the music, extended into organ sounds and escalating into music of the spheres, is becoming all the more essential."
Hermann Nitsch
24 years after the first staging of the 6-day play (1998), this summer the total work of art is to once again be condensed into a concentrated interplay of all its components. It was the cherished wish of Hermann Nitsch (*29 August 1938 in Vienna; Ϯ 18 April 2022 in Mistelbach) that his 6-day play be performed this year in the new version.
The performances of the 1st and 2nd days are to take place on 30 and 31 July 2022. Rita Nitsch is fulfilling the wish of the artist posthumously, supported by the core team of Andrea Cusumano (musical direction), Leonhard Kopp and Frank Gassner. The other four days will be staged in the coming years.
The Orgies Mysteries Theatre
Hermann Nitsch's idea for an action performance lasting six days and six nights goes back to the year 1957. At the time working with the medium of literature, the artist, influenced by the attempts of Richard Wagner and Alexander Scriabin to realise a total work of art, imagined his own action theatre, oriented on synaesthetic experience engrossing all five senses: the Orgies Mysteries Theatre.
The length is an analogy to the story of creation and is conceived as an extension of all monumental works of art. Thus, all the performed actions of the o. m. theatre ever since the early 1960s need to be understood as part realisations of the 6-day play.
The Orgies Mysteries Theatre is an artistic undertaking. Besides the visual form, the music plays a crucial role. The play's course follows a symphonic concept. The arena for the action is the castle grounds in Prinzendorf, encompassing all its rooms and spaces as well as the surrounding countryside of Lower Austria's Weinviertel.
Ticketing information is available at http://www.nitsch-foundation.com/the-6-day-play-2022
A booklet of the 6-day play can be downloaded at
https://www.nitsch-foundation.com/wp-content/uploads/2022/04/6TS_2022_July_30-31_web.pdf